Nice biceps! Muscular Kellan Lutz keeps in shape by pumping iron at the gym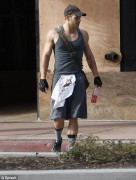 You can't maintain one of the hottest bodies in Hollywood by slacking off.
That might explain why Twilight actor Kellan Lutz hit the gym in the Sherman Oaks area of Los Angeles yesterday.
Wearing grey shorts, a grey vest top and a baseball cap, Lutz arrived at the gym with a towel dangling from his waistband.
The 25-year-old star, who plays pale vampire Emmett Cullen in the Twilight films, is a notorious fitness fanatic.
While some people like to relax and watch the TV in their spare time, Lutz says he likes to: 'Take part in extreme skateboarding, weight training, track, baseball, basketball, lacrosse, swimming, tennis, racquetball, badminton, snow skiing, snowboarding and dance.
Known for his rock-hard abs, Lutz recently topped Men's Health magazine's inaugural list of Best Summer Bodies — beating out other six-packed studs such as Matthew McConaughey, Twilight co-star Taylor Lautner, Zac Efron and others.
The North Dakota native also knows how to have a good time.
In July, he partied poolside at WET Republic at the MGM Grand Hotel, where his girlfriend, actress AnnaLynne McCord celebrated her 23rd birthday.
The pair spent the afternoon soaking up the sun's rays and enjoying the all day celebration.
Lutz will soon be getting back to work and can't wait till filming begins on the next Twilight film.
He says: 'We start sometime in October and go all the way through to late April.'
The final movie will be split into two parts, and will show the violent and gory birth of Edward and Bella's daughter Renesmee.